Kitchen furniture made with love
We love the work we do. That is why you will enjoy our furniture for many years to come.
Our staff consists of specialists in their field. They have been producing custom-made kitchen furniture for many years.
The founders of köögiart have completed all stages of producing furniture themselves. Starting with making kitchens with their own hands back in 2000 right up to establishing a company. Long-term experience garantees high quality of products.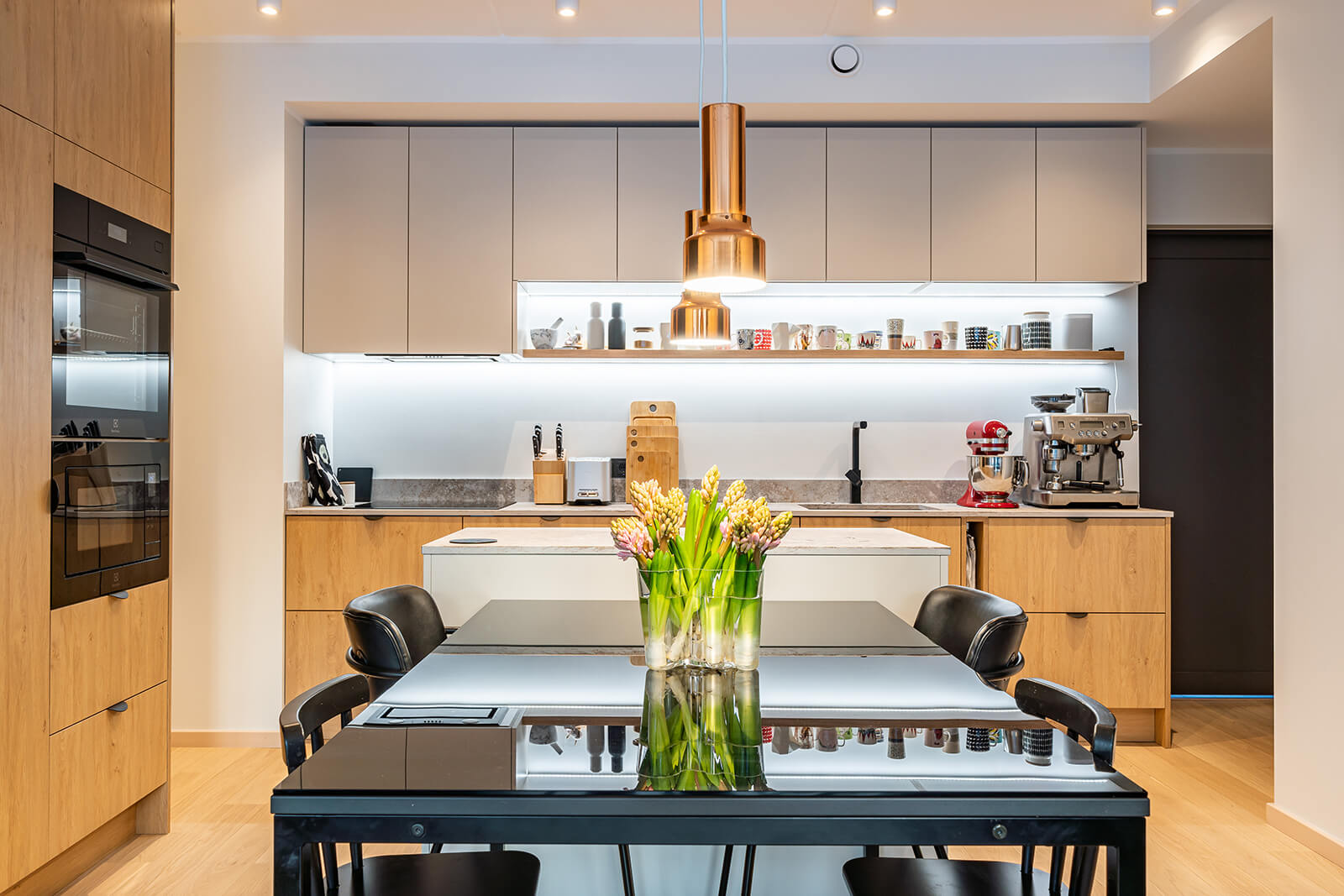 Production
Our kitchens are made with love. We love the work we do. This is the reason why you will enjoy our furniture for many years to come.
When manufacturing KöögiART furniture we use the highest quality fittings from tested and reliable suppliers…
Read more »
Ordering
KöögiART values your time, so we decided to make the process of ordering kitchen furniture as fast and simple as possible.
If you only want to get a price offer to compare prices with other furniture companies, you don't need to come to our office. You will receive our price offer via e-mail. If you are interested in the offer and come to meet us we will also create…
Read more »
Our kitchens
KöögiART is a manufacturer of kitchen furniture.
We will make a 3D project of your future kitchen or we can make furniture using your own project if you already have one.
We will help you choose the right kitchen appliances and modern kitchen systems.
We will install the furniture and do all the work…
Read more »
Reasons to order a kitchen from Köögiart:
Manufacturing kitchen furniture is our calling. We give a warranty on our production
We are reliable, always keep promises and follow deadlines.
Product quality guaranteed. Before getting sent out, each piece of furniture undergoes a quality-control checklist
We install the furniture and do all the work regarding electrical systems, plumbing and ventilation. We will help you choose the right kitchen appliances and modern kitchen systems
We use furniture fittings from leading manufacturers
Time-saving. You will get a ready-to-use kitchen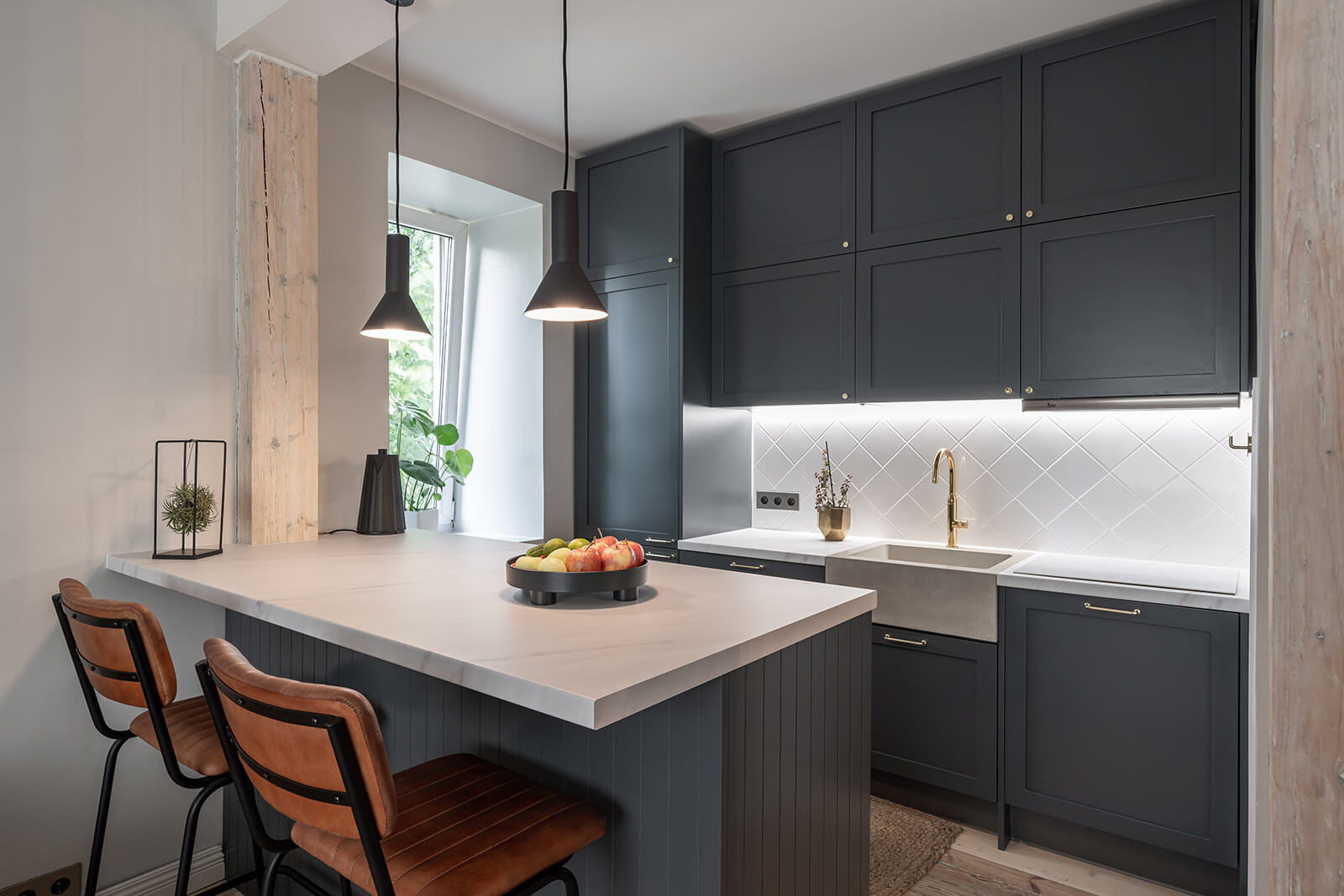 Smartly planned kitchen is the heart of the home and makes the owner happy for many years. This is why it is good to know how to choose a great kitchen. Kitchen is the place in our home where the whole family comes together. We spend most of our family time in the kitchen. We eat, spend hours drinking tea, check our kids homework, welcome relatives and friends. So it is natural that the kitchen design has to be not only beautiful but also comfortable and cozy.
Think about the design you would like to have. Is it a modern, fully integrated kitchen where you can fit all your friends or is it a comfy little corner where you can experiment with your cooking and has just the essentials? Maybe your home needs a cozy space where to spend evenings with your family? All these dreams can be fulfilled with custom made kitchen furniture.








Custom made kitchen furniture nowadays is not only modern but often a very essential solution. If you buy ready made furniture it might not fit right and you have to redo the whole room and also change all the appliances you have. When ordering a custom made kitchen you will not have these issues. Unlike ready made furniture, our custom made furniture will fit any space and style you wish to have.
We have a wide selection of materials, our cabinets can be done in any size and we offer a huge selection of different colours and finishes. Custom made furniture will fit just right and will fill all your needs, every inch will be used.
Custom made kitchen furniture will be done in your personal style. There can be drawers, open or closed shelves, all sorts of different design elements.
If you are looking for kitchen furniture that fits all your needs you are welcome to ask us. We will make custom made furniture designed just for you and that suits your personality and home.